Empower your IT team with tools to do more with less
Has a member of your IT staff ever said "there's not enough hours in the day" or that they wish they could bring on another IT person? Many IT departments consist of one or two employees that are trying their best to keep their head above the water, and this is just talking about reactionary work not to mention much needed proactive tasks that keep your organization more secure, more productive, and more efficient. Our IT Assist program provides your IT team with the tools, often reserved for enterprise IT, to get more done without adding to your headcount.
Get Started Today or learn more below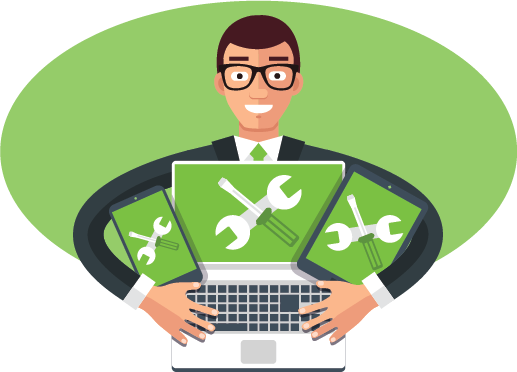 IT Assist Service Drilldown
Ticketing System
No more support requests jotted down on a sticky note. Improve support request management and accountability. Work tickets, manage users, create and manage queues, create workflow rules, and more.
Remote Control
Make end user support a breeze with remote control and support tools for all of your workstations and servers using LogMeIn. Even allow end users who want to work from home remote access to their computers.
Monitoring
Stay alerted of little issues before they snowball into large issues that cause downtime. The agent monitors servers, desktops, and networking devices using many common monitoring protocols.
Automation
Many IT tasks and preventative maintenance work can be performed in an automated process to save time. Get access to hundreds of scripts you can configure without any traditional programming knowledge.
Security Software
Leverage security tools to protect against sophisticated security threats emerging daily with the included anti-virus and anti-spyware software. Manage all of your endpoints from a single dashboard.
Security Updates
Ensure your organization is up-to-date with the latest Microsoft, Apple, and Third-Party application patches. Benefit from our whitelisting service knowing patches have been tested before deployment.
Asset Management
Get a better handle on your IT assets. Audit, track, and document all of your hardware, software, and network devices in the web portal for quick and efficient access to information when you need it.
Reporting
Gain insight and visibility of your technology with all types of reports from technical systems information, to asset collection, to preventive maintenance, and performance and application monitoring.
Support is always around the corner